Jumper JPD-500D (OLED Version) Fingertip Pulse Oximeter (CE & FDA Approved)
৳ 2,100.00 (-29%)
Accurate & Fast Measurement
Best Pulse Oximeter In Bangladesh
Compare
Jumper JPD-500D Pulse Oximeter in Bangladesh
Integrated with SPO2 probe and processing display module. Small in volume, light in weight and convenient in carrying. Operation of the product is simple, low power consumption. SPO2, PR, and Redisplay,. Pulse rate value display, bar graph display. Low-voltage indication: low-voltage indicator appears before working abnormally which is due to low-voltage. Automatically power off function: when the device is under the state of measuring interface. it will automatically power off within 5 seconds if the finger falls out of the probe.
Accurate & Fast Measurement: Accurately determine your SpO2 (blood oxygen saturation level) and Pulse Rate in very few seconds. The ONLY OLED pulse oximeter that can read and display up to 100% for SpO2 value.Sound Alarm Indicator: A smart sound alarm system to monitor your SpO2 and PR situation. If an irregular value (higher or lower value) being detected, it will make an alert to warn you to care for body condition.Perfectly Safe and Hygienic: Manufactured according to CE and FDA standards for pulse oximeters used by doctors and other health professionals. Finger rubber uses medical silicone that no causes discomfort and just feel soft when plugging your finger.Easy to Read: OLED display has adjustable brightness and offers the clearest and most visible display of results. Waveform and bar graph appears the real-time changes of spO2 and pulse rate directly. Four directions for you to choose the best comfortable angle.Mini Fingertip Pulse Oximeter: Very light in weight, and small in volume. High-density ABS material makes firmly. Portable and handy designs are convenient for home health care and outdoor activities. The package also includes Lanyard, AAA Batteries, Carry-Bag.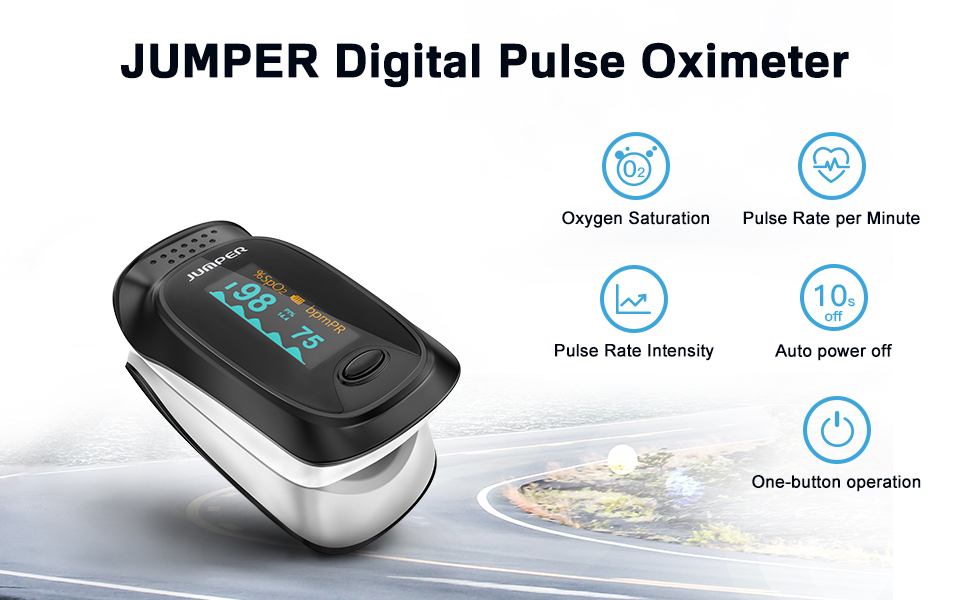 JUMPER Fingertip Pulse Oximeteris a portable non-invasive, spot-check, oxygen saturation of arterial hemoglobin (SPO2) and pulse rate of adult and pediatric user at home, and hospital (including clinical use in internist/surgery, anesthesia, intensive care, etc). Based on full digital technology, the Finger Pulse Oximeter non-invasively measures the actual content (oxygen saturation) of oxyhemoglobin (HbO2) in arterial blood using the optical transmittance method.
Supporting four-direction display and large-font display,JUMPERpulse oximeter is equipped with a color OLED screen to show measured values, plethysmogram, and bar graphs. Besides, it will automatically shut down 16 seconds later when no signal is detected, effectively saving its energy.
Certainly, it is applicable to a wide range of fields, such as families, hospitals (including operation rooms of the departments of internal medicine and surgery, the department of anesthesiology, the department of pediatrics, and intensive care rooms), oxygen bars, social medical care institutions, and sports & health.
Package Content:
1 x JUMPER Fingertip Pulse Oximeter
1 x Lanyard
2 x Batteries
1 x User manual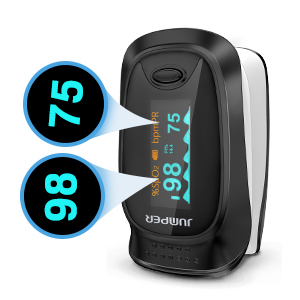 OLED display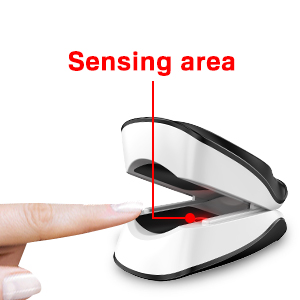 Easy to use